Spacecover® prevent to soiling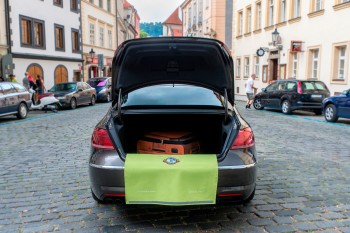 An indispensable tool for every driver! Long trips mean constant manipulation with luggage, and hence the risk of getting your clothes dirty. For example just leaning into the trunk to get your suitcase can mean touching the back of the car. We have devised a solution for this problem. Especially for you, we've developed SPACECOVER® - a waterproofed cover that protects the space of your trunk and the rear bumper of your car; which can often be dirty. It is fitted with a surface layer that's easy to wash and a strong hook-and-loop fastener that attaches to the carpet of your car and stays there as long as you need.
Ideal for daily use! Whenever you go grocery shopping, it's good to protect your rear bumper and your clothes from dirt. SPACECOVER® is a simple and intelligent solution. No more getting messy with SPACECOVER®.
On the other hand, SPACECOVER® protects the bumper from scratches that can happen when manipulating heavy luggage. Dog owners whose dogs travel in the trunk will also appreciate the protection. It's ideal to use whenever you are transporting cargo in the trunk and want to keep the trunk clean. When the cargo's out, all you have to do is wipe the cover since it's very easy to maintain.
Say no to scratches on your rear bumper, dirt in your trunk or smudges on your clothes. SPACECOVER® is the cherry on top of your traveling adventures.
SPACECOVER® makes for an interesting present.
What's SPACECOVER® made of
Material: very tough, waterproofed fabric with easy-to-wash PES GUCHI 300Dx300D coating. The cover is fitted with a reflective strip to make you visible when it's dark or in the night.
Available in five attractive colors.
Dimensions: universal size 87 x 70 centimeters in black, other options 80 x 80 centimeters.
Other benefits
A ten-year warranty for each piece!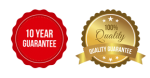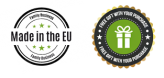 100% ecological materials. Registered SPACECOVER® trademark of the Space 4 Dreams UG company.
Made in Europe.