SPACEBED® Single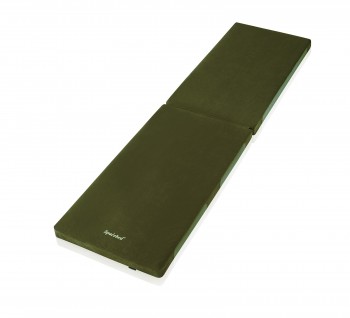 NEW product for individual travelers!
Do you travel by yourself most times and the classic SPACEBED® mattress seems unnecessarily heavy and takes up too much space? You do not want to drag a double bed with you when cannot fully utilize it? Would you like to save money?
In that case the SPACEBED® Single is just right for you – the single bed version of the classic SPACEBED®.
Here are some of the advantages of SPACEBED® Single:
✓ smaller dimensions and lower weight
✓ easier handling
✓ extendible through add-on side cushions (Extra Polstern)
✓ lower price
SPACEBED® Single mattress composition
SPACEBED® Single is made of three layers:
- solid plywood made of high-quality birchwood – thickness 6 mm
It has a supporting function, levels the floor (balances unevenness, protrusions, transitions) and also works as a "bridge" when the mattress extends over the folded backseats.
- polyurethane (PUR) foam (foam rubber) – thickness 54 mm
Optimal stiffness makes the mattress very comfortable and prevents it from deforming during regular usage – it is neither too hard nor too soft.
- hollow fiber fleece padding – grammage up to 200 gr/m2
Fitted with a special fabric on the bottom part. The hollow fiber fleece will make you feel comfortable and ensure breathability, it will keep you warm during cold months and won't make you sweat during summer.
SPACEBED® Single covers:
- upper cover material ALCATRAZ (Spanish manufacturer) – special microfleece – the finest luxury cover fabric with a special design stitching
- lower cover material RICO (Spanish manufacturer) – special abrasion-resistant material made to withstand everyday straining during folding, unfolding and moving of the SPACEBED® Single inside and outside the car
Dimensions SPACEBED® Single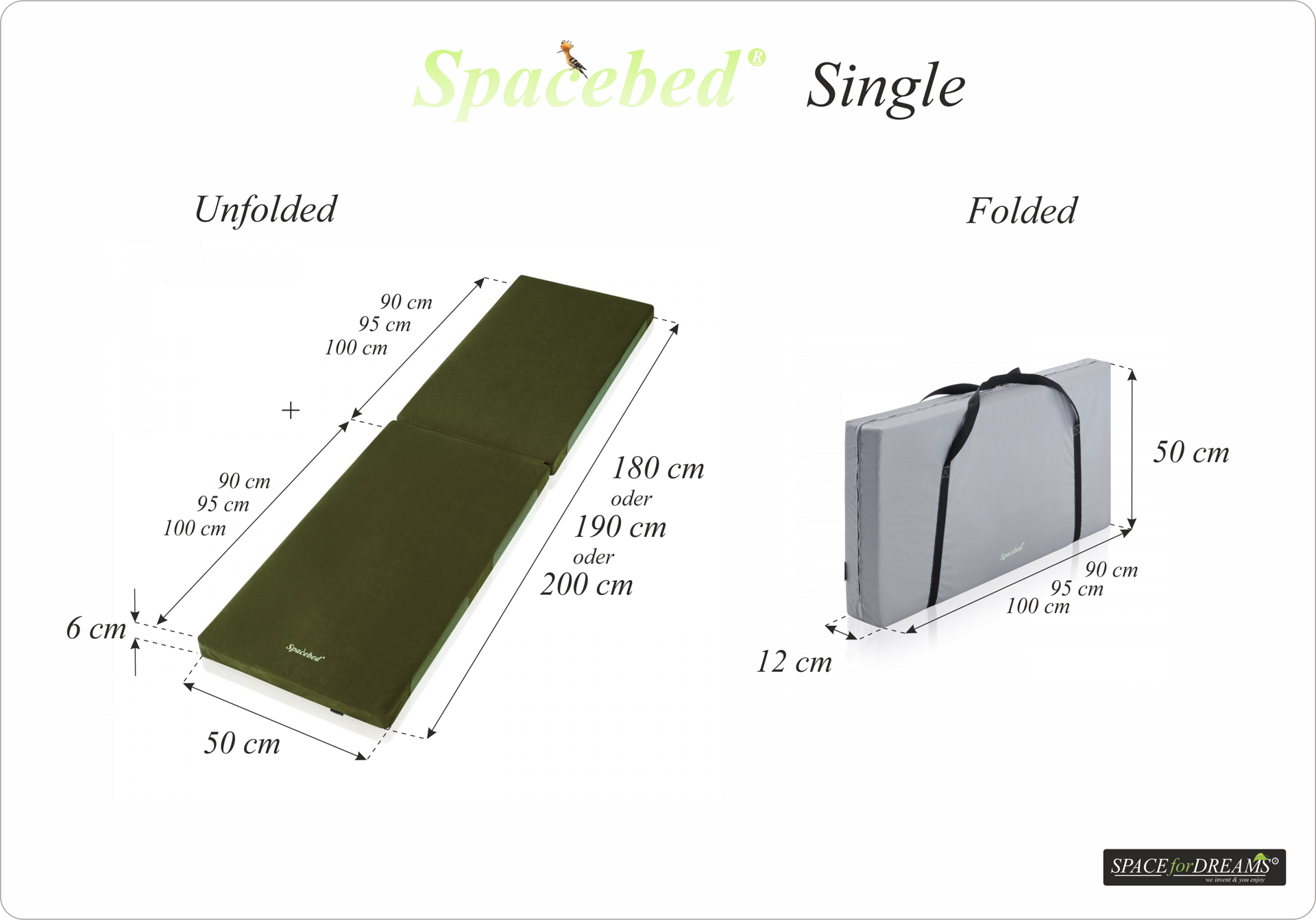 NEW FOLDING MECHANISM!
The development of SPACEBED® is ongoing – which is why we can now present you the new, sixth generation. We have devised a better, more user-friendly way of folding the SPACEBED®. Based on our own and our customers' experience we changed the folding logic so that you won't have to fully fold the mattress when moving between two destinations. The mattress can remain partly unfolded and the driver's and passenger's seats can be conveniently set. When you want to use the SPACEBED® again, simply move the front seats all the way to the front and unfold the mattress fully.
Accessories for SPACEBED® Single
original SPACEforDREAMS® cushions made especially to fit and to correspond to the colour of SPACEBED® of your choise. Our cushions have an innovation. Thanks to the zipper you can adjust the stiffness of your cushion according to your wishes.
Who benefits from the SPACEBED® Single mattress
Sport enthusiasts, fishermen, recreational tourists, adventurers, but also managers travelling long distances. Our SPACEBED® mattress does away with fatigue on the road. Just take a nap wherever and whenever you feel like it. Our mattress is so easy to unfold even a child could do it! It is suited for year-round use.
If you usually travel with additional passengers, you should consider purchasing the classic version of the SPACEBED®. The portable double mattress already has many satisfied users, feel free to read their reviews!
We have something extra in store for the most demanding travelers. A top quality mattress with VISCO memory foam in the luxury SPACEBED® Exclusive range!
Other benefits of SPACEBED® Single
A ten-year warranty on each piece!
SPACEBED® is a registered trademark of the Space 4 Sleep UG company.
The materials are ecological and 100% recyclable; the mattresses are produced in the European Union (Germany and the Czech Republic) and tested to meet travelers' highest requirements. The current production of SPACEBED® car mattresses has been preceded by many years of testing.
SPACEBED® car mattresses are hand-made by professional tailors on SIRUBA hand-operated sewing machines — find more about production on this site.
SPACEBED® Single car mattresses are universal and can be used in a whole range of vehicles; from small cars such as the Škoda Fabia Combi up to the largest such as the MB GL, from sedans to MPVs or SUVs.
Currently available in 3 sizes, in lengths 180, 190 and 200 cm, width 50 cm (can be extended to up to 70 cm with the optional extensions)
We offer SPACEBED® Single in two color variants: